Ways to Support Us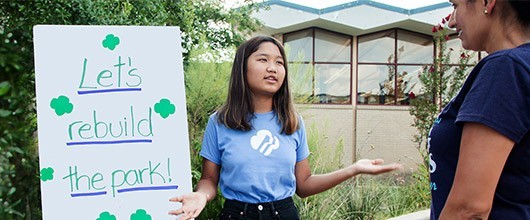 For more than a century, Girl Scouts has provided girls with more ways to learn and lead than any other organization. We know that when equipped with the right skills and given the opportunity, girls will change the world.
There are many ways you can help Girl Scouts discover themselves, connect with others, and take positive action in their communities. No matter how you support Girl Scouts, you'll be changing the world too.
Donate
From a one-time donation to monthly giving to planned giving or gifts of stock, no gift is too small. Learn more about the many ways you can contribute financially to Girl Scouts and donate today.
Volunteer
Volunteers bring the Girl Scout experience alive, showing girls that they can do anything and be anything. Our volunteers encourage girls to take chances, create change, and – most importantly – to be themselves. Girl Scouting is only possible with the support and dedication of our volunteers here at Girl Scouts of North-Central Alabama. Learn more about the many ways you can support Girl Scouts with your time and talents, and sign up to volunteer today!

Become a Partner or Sponsor
Your company or organization can become a Girl Scouts of North Central Alabama partner or sponsor by supporting our mission with financial contributions, program partnership, gifts in-kind, or volunteer time. Learn more about how you can become a partner or sponsor.
Reconnect as a Girl Scout Alum
More than 59 million women in America today enjoyed Girl Scouts during their childhood—and that number keeps on growing as Girl Scouts continues to inspire, challenge, and empower girls everywhere. By reconnecting with Girl Scouts, you'll be part of a sisterhood and network of millions who are passionate about the Girl Scout mission.
Join our special interest groups or our The Girl Scout Network to reconnect with our local network of Girl Scout alums.
Advocacy
The Girl Scout Advocacy Network provides a tool for you to become a voice for girls and to make a difference in your community and across the nation. Together, we can educate policymakers and community leaders on issues that directly affect girls and Girl Scouts. By being an advocate, you will have an impact on girl policy issues moving through Congress and the state legislature.